CHICAGO — As the first blast of wintry weather hit Chicago, dozens of migrant families without a place to live were moved off snowy city streets and into the basement of Good Shepherd Lutheran Church in a nearby suburb.
The last-minute, temporary solution around 1 a.m. Wednesday, coordinated by volunteers and suburban Oak Park officials, came as Chicago has struggled to house the growing population of asylum-seekers ahead of the deep winter months. Mayor Brandon Johnson has proposed winterized tents and more shelters to house migrants currently sleeping on police station floors, in airport waiting areas and the streets. But volunteers, churches and some aldermen say the response is too slow and inefficient.
"Good will and charity cannot fix systemic problems," said Annie Gomberg, who is part of a volunteer network that coordinates meals and clothing at police stations. "This is a lack of infrastructure and a lack of planning."
More than 20,000 migrants have arrived in Chicago since last year, largely under the direction of Republican Texas Gov. Greg Abbott. They're housed at police stations and airports, sometimes for months, until they can be moved to limited shelter space at park district field houses, commercial buildings and other places. The end goal, officials say, is permanent independent housing.
More than 3,000 are living inside airports and police stations while they await placements, although some have moved into tents in adjacent streets and vacant lots due to crowding.
Volunteer organizations, which have taken on the bulk of the work providing meals and clothing, say they're now giving winter survival tips, too. Layering clothing is a novel concept for most of the migrants who are used to warmer climates. Temperatures dipped to the low 30s by Wednesday.
Many of the migrants are from Venezuela, where a political, social and economic crisis has pushed millions of people into poverty. At least 7.3 million have left the country, with many risking a dangerous route by foot to the United States.
The donated tents are lined with cardboard, blankets and draped with tarps to ward against the cold. Some migrants use extension cords from the police stations to power heaters inside the tents.
Gleicy Martinez, 27, from Venezuela, has been living for three weeks in a tent outside a police station with her two children, including a 9-year-old who is blind. Other family members, including her mom and sister, live in adjacent tents.
They rarely leave the tent because they aren't accustomed to the climate. When storm conditions hit Chicago Tuesday, they went inside the police station but it was too full, so they walked to a nearby Target store to get warm.
"The snow caught us unexpectedly," Martinez said Wednesday. "We didn't know it was going to snow."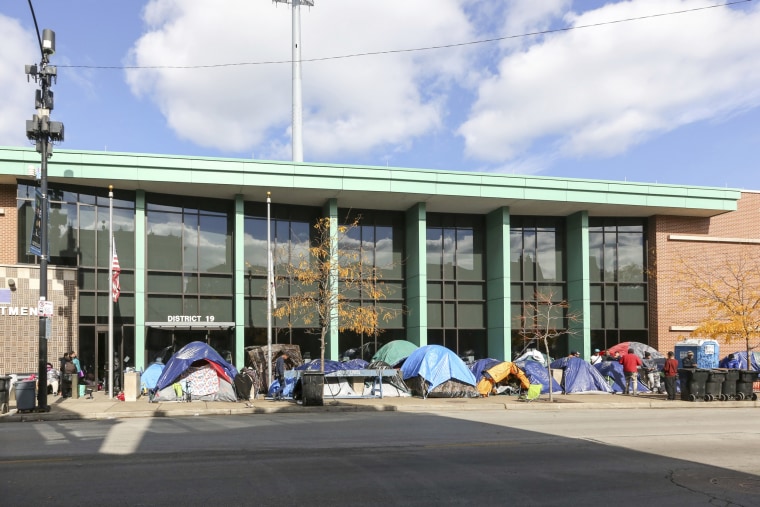 City officials have called the migrants' arrival an inherited problem and one that they are working to address.
Johnson's administration has opened over a dozen more shelters since he took office in May, with others in the works. City officials have been scouting locations for winterized tents, but City Council members have criticized Johnson's administration for a lack of details. Johnson estimates the city will spend roughly $255 million on the migrant crisis in 2023.
This week, the city publicized its winter efforts, including providing 16 "warming buses" at police stations during overnight hours, and winter coats for new arrivals. Last month, the city touted its partnerships with several outside organizations to provide food, clothing and hygiene items.
On Wednesday, Johnson and the mayors of four other cities wrote to President Joe Biden, seeking a meeting to secure more federal resources.
"With colder weather upon us in Chicago, we are at an increasingly critical point in our humanitarian endeavor in welcoming asylum seekers to our city," Johnson's spokesman Ronnie Reese said in an email.
In Oak Park, just 10 miles from Chicago, the Rev. Kathy Nolte received a call from officials around 1 a.m. asking if she could open up her church. Within minutes, the bus of migrants had arrived at the doors of Good Shephard, most of them families with young children.
She said it was an easy decision. Later in the morning, she fulfilled a request from the migrants and performed a blessing for them and their journey.
"We got them into a place where they could have warmth and a sense of their space," she said.