CNN's Van Jones praised the Republican Party for sticking up for "Jewish kids" on college campuses amid the rash of antisemitism that cropped up after Hamas' attack on Israel last month.
During his commentary on the third GOP presidential primary debate on Wednesday night, the CNN political contributor remarked that Republicans "forcefully" defended Jewish students while claiming that Democrats found themselves in "disarray" over the issue.
Jones made the comments after complimenting former South Carolina governor and 2024 presidential candidate Nikki Haley's performance on the debate stage that evening. 
2023 ELECTION FALLOUT – TRUMP'S 2024 RIVALS BLAME HIM  FOR THE GOP'S POOR SHOWING AT THE BALLOT BOX
He began, "I thought Nikki Haley gave a masterclass on foreign policy. I thought she gave a masterclass on abortion. If you just took those two clips, you could teach a course on political communication, conversation. She's a force. She's a force."
That segued to his Israel point: "I also thought — you know, Israel was mentioned. I thought the Republican Party took advantage of some of the disarray in the Democratic Party and stuck up for Jewish kids who were scared to leave their dorm rooms and all of that kind of stuff."
The commentator noted that members of the GOP "came very, very forcefully, saying Jewish kids shouldn't be scared to leave their dorm rooms in this country."
"I thought that was an important development in the conversation overall," he added.
During the debate, several of the candidates, including Haley, Gov. Ron DeSantis, R-Fla., Sen. Tim Scott, R-S.C., and others, defended Israel's right to defend itself against the terror group Hamas following the Oct. 7 massacre.
NEW YORK CITY PUBLIC DEFENDER RESIGNS AFTER BEING CAUGHT TEARING DOWN ISRAEL-HAMAS WAR HOSTAGE POSTERS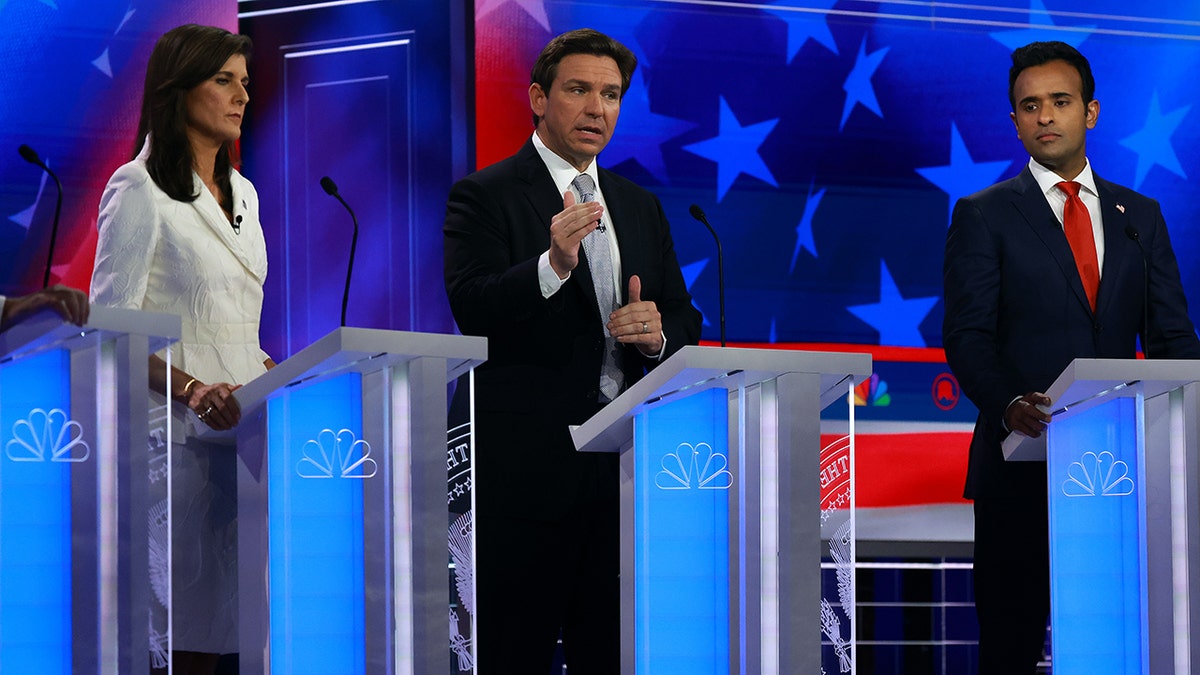 The candidates also spoke about Jewish college students who have felt unsafe amid various pro-Palestinian protests that have erupted on major American campuses that have accused the Jewish state of oppressing and antagonizing Palestinians in the lead up to the attack.
During the debate, Haley argued, "If the KKK were doing this, every college president would be up in arms. This is no different. You should treat it exactly the same. Antisemitism is just as awful as racism, and we've got to make sure they're protected."
She added, "For everybody that's protesting on these college campuses in favor of Hamas. Let me remind you something, Hamas said: 'Death to Israel' and 'Death to America.' They hate and would kill you too."
DeSantis called on the Department of Justice to start "holding the universities accountable for civil rights violations" against Jewish students. He also blasted the Biden administration for pushing a new initiative to combat Islamophobia, stating, "No, it's the antisemitism that's spiraling out of control. That is what we have to confront."
And Scott warned that colleges that allow for antisemitism to spread on their campuses could be stripped of their federal funding and access to student visas.
CLICK HERE TO GET THE FOX NEWS APP
For more Culture, Media, Education, Opinion, and channel coverage, visit foxnews.com/media.