Jordan airdrops medical aid to Gaza field hospital
The king of Jordan said his country's air force dropped vital medical aid to a field hospital in Gaza overnight.
"Our fearless air force personnel air-dropped at midnight urgent medical aid to the Jordanian field hospital in Gaza. This is our duty to aid our brothers and sisters injured in the war on Gaza. We will always be there for our Palestinian brethren," King Abdullah II said in a post on X.
Jordan, a key regional power broker and U.S. ally, has been a staunch critic of Israel's assault on Gaza and last week recalled its ambassador from Tel Aviv and told Israel ambassador to Jordan to stay away. Around 3 million of Jordan's 11 million population are Palestinian.
The Israeli military said it had helped co-ordinate the airdrop, according to a statement reported by the AFP news agency.
Israeli flares light up the night sky over northern Gaza
Flares dropped by Israeli forces above northern Gaza, seen from Sderot, Israel yesterday.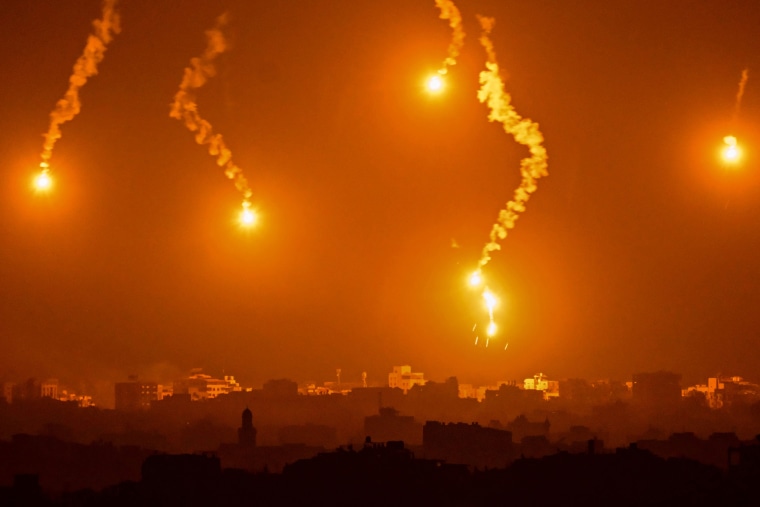 IDF says it captured Hamas compound, hit 450 targets in Gaza
The Israeli military said it took control of a Hamas military compound in the Gaza Strip that had observation posts, training areas and tunnels.
In a post on social media this morning, the Israel Defense Forces said its jets also struck 450 targets inside Gaza in the past day and killed Hamas militants including Jamal Mussa, who it said was responsible for Hamas' "special security operations."
It said Mussa had carried out a shooting on IDF soldiers patrolling the Gaza strip in 1993.
NBC News has not independently verified the claims.
CIA director to meet Middle East leaders about Israel-Hamas war
CIA Director William Burns arrived in Israel today on a trip that focuses on talks with political leaders and intelligence counterparts across the Middle East, a U.S. official said.
"They will discuss issues of mutual concern, including the situation in Gaza, support for hostage negotiations and the U.S. commitment to continuing to deter state and nonstate actors from widening the conflict between Israel and Hamas," the official said.
He "will reinforce our commitment to intelligence cooperation, especially in areas such as counterterrorism and security," the official said. 
The CIA declined to comment.
The trip comes as Blinken made a surprise visit to the occupied West Bank, Iraq and Turkey.
Search for survivors in Khan Younis
A man searches through the rubble of a destroyed building in Khan Younis, in the southern Gaza Strip this morning.