As Louisiana's statewide election slated for Saturday hit the campaign home stretch, one state senator used the likeness of an unlikely hero for the trail: a nutria rat. 
Earlier this year, Louisiana Department of Fisheries and Wildlife agents took "Neuty" away from the family that raised him since it discovered him orphaned on the side of the road Christmas Day 2020.
Private ownership of the wild animals in the Pelican State is illegal. 
Their state senator, Cameron Henry, contacted Gov. John Bel Edwards and the agency to protect the Lacoste family's beloved pet.
LOUISIANA PRINCIPAL WHO REMOVED HIGH SCHOOLER FROM STUDENT GOVERNMENT OVER DANCING VIDEO ASKS FOR LEAVE
"Of all the things wrong with Louisiana, taking Neuty from his family is not what we need to do," Henry said
Ultimately, under immense public pressure and a petition signed by almost 20,000 people, the Louisiana Department of Fisheries and Wildlife relented. The Lacoste family is now the proud owner of the one and only legally permitted nutria in Louisiana.
'MONSTER' 283-POUND ALLIGATOR GAR CAUGHT IN TEXAS COULD SET TWO FISHING RECORDS
Denny and Myra Lacoste, Neuty's owners, are grateful for all the efforts in returning their nutria home after a brief stint in the Baton Rouge Zoo.
In an interview with Fox News Digital, Denny Lacoste addressed Neuty's popularity after his publicized release.
"Everybody loved him and loved the story. I mean, he wasn't a secret. We have customers come see him all the time," Denny said. 
The Lacoste family also owns and operates Dennis' Seafood in Metairie, where Neuty can be found almost every day chomping away at fresh crab legs and Nilla Wafers with his signature orange teeth.
When he's not feasting on fresh seafood, Neuty enjoys spending time swimming in the Lacostes' saltwater pool, sticking his head out the window on car rides or "aggravating" their dogs. 
"The Bayou" classic rock radio station at 95.7 FM in the greater New Orleans area has also caught Neuty fever, making the rodent its official mascot. 
Neuty made his political debut this year with his backstory and his baby picture gracing Cameron Henry's most recent mailer. 
In an interview with Fox News Digital, Henry praised Neuty's presence on his campaign.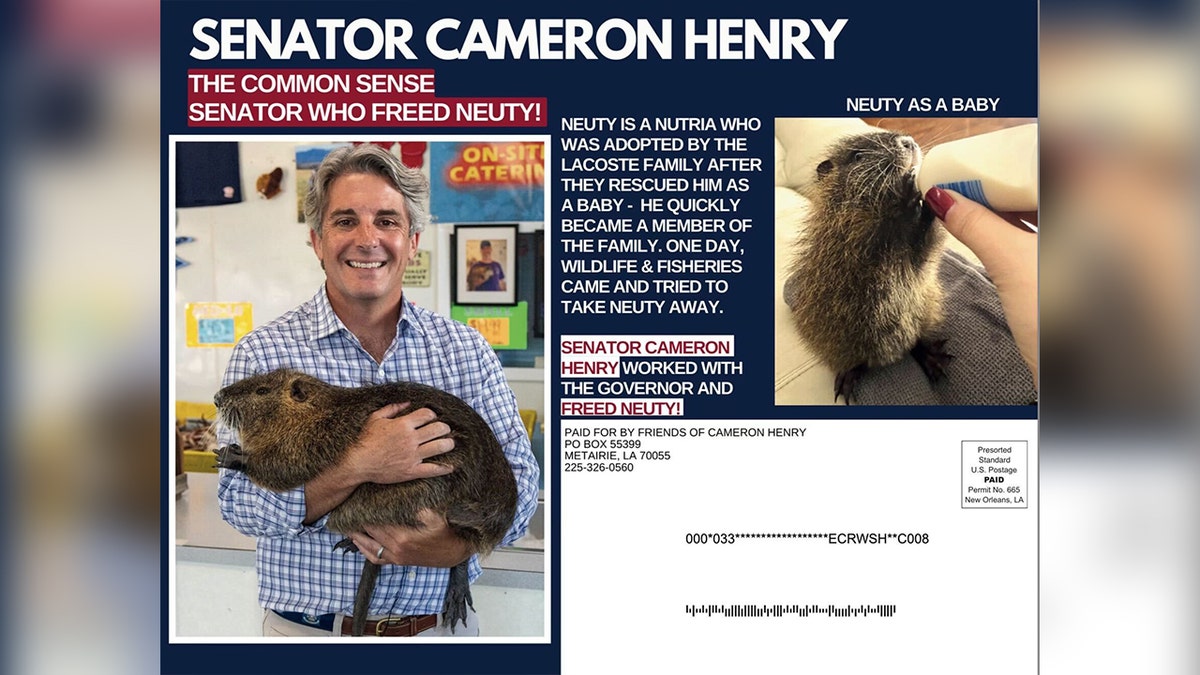 "(I) literally cannot tell you the value that has been, and I didn't do it for that," Henry said. "I did it because it was the right cause. And if I want, you know, I had to use him in a mail piece because everybody expected it. They love seeing him." 
Not all political material seen in Louisiana with Neuty's face is trustworthy, however. One determined prankster placed fake yard signs with the slogan "Less Paths, More Snacks" across Jefferson Parish. 
Myra Lacoste, Neuty the nutria's mom, assured Fox News Digital "Neuty did not have those signs made."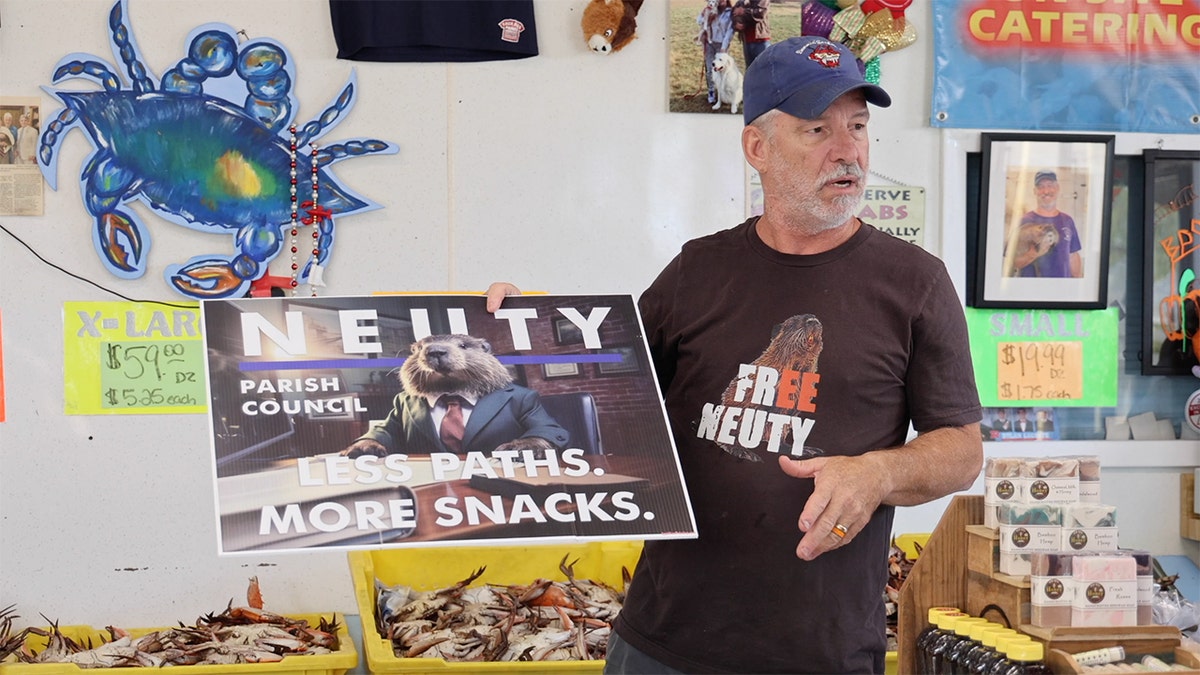 Neuty the nutria's future after Election Day is all lagniappe.
"We got people call us every day. Just want Neuty here, want Neuty there. He was in a documentary a couple of months ago," Denny Lacoste said.
"A big production company called a month ago from England. They came here, shot a series on him for a couple of days. I just, it's crazy. I don't know. I think Cam's got a good shot due to Neuty."
CLICK HERE TO GET THE FOX NEWS APP
Louisiana's statewide elections are Saturday, Oct. 14.