RAMALLAH, West Bank — Amid mounting reports of a wave of violence by Israeli settlers against Palestinian residents of the occupied West Bank, one incident has caused particular alarm.
Five days after Hamas' terrorist attack on Oct. 7, Mohamad Mattar says, he and two other Palestinians in the West Bank were detained by a group of Israeli troops and settlers wearing military uniforms.
Mattar, 46, a social and humanitarian worker for the Palestinian Authority that governs parts of the West Bank, told NBC News that he and his companions were taken to a sheep barn near their village of Wadi Al-Seeq, east of Ramallah. There, they were stripped to their underwear, bound, photographed and urinated on, he said. 
One of the unidentified attackers tried to sexually assault him with a stick, Mattar continued, and when he fought back, the Israeli man beat him for 10 minutes — until the stick broke in three places.
"He was telling me that he is going to kill me, he is going to make my kids hungry," Mattar said of one of his assailants. "He poured cold water on my body and made me roll over all the manure. Then he kept beating me up."
This first-hand account is part of a growing crisis in the West Bank, according to the United Nations, human rights groups, and locals, who say that Israeli security forces and extremist settlers have been intimidating, abusing and killing Palestinians there. The hard-right coalition government of Prime Minister Benjamin Netanyahu has been handing out assault rifles to the settlers, and, according to the U.N., allowing them to harass and kill with impunity.
When NBC News asked the Israel Defense Forces about the incident involving Mattar, the IDF said in a statement that it had gotten reports of "a number of suspicious individuals." 
"The forces apprehended and searched the suspects, who were in possession of a knife and an ax," the IDF said. Mattar said he had a kitchen knife in his car but wasn't going to use it to hurt anyone. Palestinians have in recent years used knives to carry out attacks, including stabbing Israeli security forces and civilians at checkpoints and other public places.
The IDF also said that "the manner in which the arrest was carried out, and the conduct of the force in the field, was contrary to the standards expected of soldiers and commanders in the IDF," and that it had opened an investigation and dismissed the commander of the unit who led the arrest.
Follow live coverage of the war from NBC News here.
Attacks by Israeli settlers on Palestinian residents of the West Bank were a problem before Oct. 7. But the U.N. and the Israeli human rights group B'Tselem both say the Hamas massacre and subsequent Israeli bombardment of Gaza has given settlers and Israeli authorities cover to increase those assaults.
"It's definitely escalated very much in the past few weeks," B'Tselem spokesperson Dror Sadot said. "Because of the war, the settlers are exploiting this — the fact that no one's looking at them."
Israel rejects this characterization, saying that most of the recent Palestinian deaths in the West Bank were the result of counterterrorism efforts aimed at rooting out members of Hamas and other militant groups. But it does not deny the incident Mattar described.
In the month since Hamas' attack, more than 2,000 Palestinians have been arrested from their homes, at checkpoints and during other encounters across the West Bank and East Jerusalem, according to the Palestinian Ministry of Detainees and Ex-Detainees Affairs. In total, there are around 5,000 Palestinians being held in Israeli prisons on "security grounds," including around 150 children, figures from B'Tselem suggest.
The numbers given by Israeli authorities have generally been lower. On Thursday, the IDF said it had "apprehended 1,200 suspects," 742 of whom it said members of Hamas. NBC News contacted the IDF on Saturday for an update but did not receive one in time for publication.
According to the U.N., at least 132 Palestinians, including 41 children, have been killed by security forces and settlers in the West Bank in the past four weeks. Last year, 158 Palestinians were killed there, and 199 before Oct. 7 this year, U.N. data suggests — the highest level of violence in the West Bank in two decades.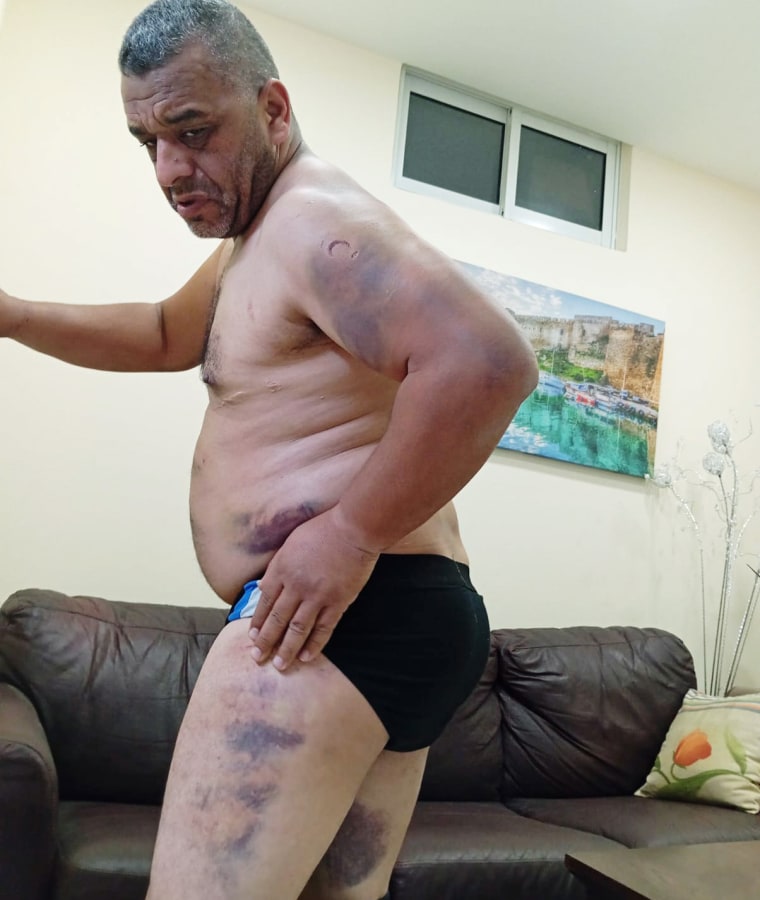 Mattar said the dismissal of a commanding officer is not sufficient justice for what his trio went through. He likened the experience to the treatment at Abu Ghraib, the Iraqi prison where detainees were physically and sexually assaulted by American forces following the 2003 United States-led invasion. Mattar wants to see the officer jailed. 
He said that even as his attacker "was beating me, I was telling him I am against the war between us" and "against Hamas." 
But the assailant was not receptive, Mattar continued: "He said, 'You are all Arabs, all s—, not only Hamas. We want to kill you and expel you from here." 
"Their insults are part of their sadism," Mattar said. "Some of the settlers perceive Arabs as a sublevel in the world." 
He warned that the subjugation of Palestinians in the West Bank could backfire on Israel — a sentiment President Joe Biden similarly alluded to when he said last week that the settler violence was "pouring gasoline" on tensions in the region. Such treatment raises the risk of another cycle of violence, Mattar said, in an area seemingly doomed to repeated conflagrations.
"They are applying pressure on us like a balloon, which keeps pressuring until it explodes," he said. "If this oppression persists in the West Bank, and as people get more used to the attacks on Gaza, an explosion will happen in the West bank and Jerusalem."
Lawahez Jabari and Marc Smith reported from Ramallah, and Alexander Smith reported from Tel Aviv.