BEIJING — Eight decades after he first came to China, as a U.S. fighter pilot defending against Japanese forces, Harry Moyer is back in the country on a very different mission.
Moyer, 103, whose visit comes as U.S.-China relations are at their lowest point in decades, told NBC News he wanted to share a "message of cooperation and friendship between two great countries."
Moyer and gunner Mel McMullen, 98, are among the few surviving members of a U.S. military command known as the Flying Tigers, whose combat and supply missions in China helped change the course of the World War II fight against Japan. They were the stars of a delegation visiting China this week that also included the children and grandchildren of Flying Tigers, as well as elected officials from California, Moyer and McMullen's home state.
The United States and China, the world's two largest economies, have been taking steps aimed at easing tensions over a range of issues including trade, technology, the status of Taiwan and China's stance on the wars in the Middle East and Ukraine. They include an expected meeting in San Francisco this month between President Joe Biden and Chinese President Xi Jinping, their first interaction in a year.
That follows visits to Beijing by a series of senior Biden administration officials, a bipartisan group of U.S. senators and California Gov. Gavin Newsom, as well as a visit to Washington by Chinese Foreign Minister Wang Yi.
The Flying Tigers trip was embraced by China, where it has been prominently covered by state media, almost as soon as it was proposed by Jeffrey Greene, chairman of the Las Vegas-based Sino-American Aviation Heritage Foundation. Twelve days after he made the request, Greene said, he received a letter from Xi approving it and saying how important it was to teach people in China and the U.S. about the Flying Tigers' history.
"That's a pretty big endorsement," Greene said.
On Monday, Moyer's birthday, the Flying Tigers delegation met with Chinese Vice President Han Zheng, who said China would not forget its "old friends" and their heroic deeds, and that he "hoped that the spirit of the Flying Tigers can be passed down from generation to generation."
While the story is well known in China, where veterans like Moyer and McMullen are revered, "most Americans do not know about the Flying Tigers," Greene said.
That is partly because there were so few American soldiers in China during World War II compared with Europe or the Pacific.
"They represent one of the high points in the relationship between the U.S. and China … and I think it's important to recall that now," said U.S. Ambassador to China Nicholas Burns.
The Flying Tigers began as a volunteer force founded by retired U.S. Army aviator Claire Lee Chennault, who was hired in 1937 to do a survey of the Chinese military.
"He found out that they thought they had 500 airplanes, but they only had 91 that would fly," said Nell Chennault Calloway, his granddaughter, who was also on the China trip.
At the time, China was under heavy bombardment by Japan, whose 14-year occupation is estimated to have caused up to 35 million Chinese deaths. Chennault became an adviser to the Chinese air force under the Nationalist government of Chiang Kai-shek, building airfields, setting up an early-warning system and training thousands of people.
"When he came to China, he didn't see people of a different nationality. He didn't see that they didn't speak his language," Calloway said. "All he saw was that they were being tortured."
"I think that is an important lesson that we all could learn from, especially today," she continued. "To not see each other, but to realize that our humanity is much more important toward our fellow man than the differences in our culture and the way we look."
With the support of President Franklin D. Roosevelt, in 1941 Chennault recruited about 100 American pilots and 200 support crew to the Flying Tigers program, with China paying for their salaries and 100 U.S. fighter planes.
On Dec. 20, 1941, less than two weeks after Japan's attack on Pearl Harbor prompted the U.S. to declare war, the Flying Tigers shot down nine of 10 Japanese bombers in their first battle over the Chinese city of Kunming.
"They were the first Americans to actually have a victory in World War II, and they flew for China," said Calloway, who runs the Chennault Aviation and Military Museum in Monroe, Louisiana.
The Flying Tigers, who were later incorporated into the 14th Air Force, were confirmed to have destroyed almost 300 Japanese planes in less than a year. According to a history by the Department of Defense, 23 American pilots were killed in action, accidents or enemy attacks on Flying Tiger facilities, while there were "uncountable casualties" among Chinese who helped downed American pilots get to safety.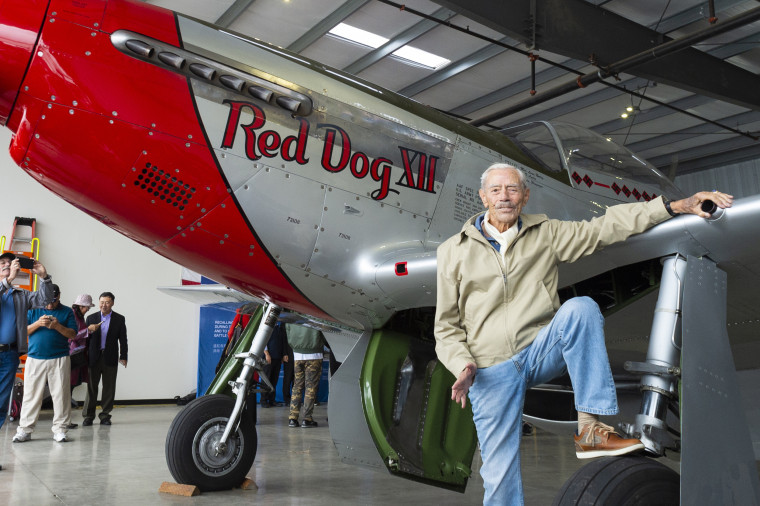 Delegation member Margaret Kincannon, whose father James Mills was crew chief on a B-25 bomber, said she had dreamed her whole life about visiting China after hearing his stories as a child.
"He didn't talk about his service, none of the scary stuff, but he talked about the people," she said, including the Chinese mechanics he worked with.
Kincannon said she planned to use her forthcoming book about the Flying Tigers, "The Spray and Pray Squadron," to teach Americans about a time when the U.S. and China worked together.
"I can only imagine how things might turn out if we don't mend our bridges and rebuild what once existed," she said.
Asked how he felt about being seen as a hero in China, which he last visited in 1995, Moyer demurred.
"I was a 21-year-old guy that happened to fly an airplane, happened to go to war, and here I am," he said. "I don't know what the word hero means."
Janis Mackey Frayer reported from Beijing, and Jennifer Jett from Hong Kong.